| | | | |
| --- | --- | --- | --- |
| | | | |
| Home | About Us | FAQ | Contact Us |
ESL Jobs in Burundi
Teach English in Burundi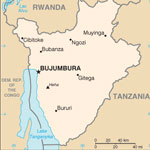 Burundi is a small country in the Great Lakes region of Africa. It is bordered by Rwanda on the north, Tanzania on the south and east, and the Democratic Republic of the Congo on the west. Although the country is landlocked, much of its western border is adjacent to Lake Tanganyika.
As many people know, English has replaced French as the main language used for international communication. This process of substitution, noted already in the first half of this century, has recently gained momentum in some "French speaking" African countries. One example of this gradual loss of French to English can be witnessed in Burundi. It was made clear on Apr. 22, 1981 when the Minister of National Education proclaimed, at the seminary for secondary school teachers of English in Burundi, that the ambition of the Burundi government is to make the country trilingual in Kirundi, French, and English.

However, the teaching of English in Burundi suffers from many problems, some of them inherited from the colonial days. Introduced in the late fifties by the Belgians, it was taught more or less like Greek or Latin. Slowly, after obtaining their independence, Barundi have come to realize its' importance as the language of communication both regionally and internationally. Presently, in the secondary schools it is given the same number of instruction hours as French, and at the post-secondary level, it is a compulsory subject in all institutions and in all departments. It is also taught on the radio, where it was first introduced with French explanations and now presented in Kiswahili. We thus observe the first problem. At least 95% of the Burundi population speaks Kirundi as the native language, yet English is taught through another language, mostly French.

This observation led me to conduct an experiment to check the question whether Barundi would learn English more efficiently if it were presented with occasional explanations in Kirundi rather than in French.
Most positions in Burundi are from Aid agencies and other NGOs operating in the area.

> Post an English teaching job in Burundi
> Browse travel guides for Burundi


Date Posted
Job Title
Location