| | | | |
| --- | --- | --- | --- |
| | | | |
| Home | About Us | FAQ | Contact Us |
ESL Jobs in Gibraltar
Teach English in Gibraltar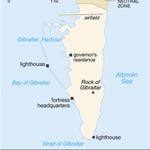 Gibraltar is a British overseas territory located near the southernmost tip of the Iberian Peninsula overlooking the Strait of Gibraltar. The territory shares a land border with Spain to the north. Gibraltar has historically been an important base for the British Armed Forces and is the site of a Royal Navy base.
The official language is English, which is used for government and business purposes. Most Gibraltarians use Llanito (pronounced "Yanito") as their vernacular language, a dialect of Andalusian Spanish strongly influenced by English that also incorporates some words native to neither. Arabic is also spoken by the Moroccan community.
Gibraltar has fourteen schools and one College of Further Education. All teacher-training takes place in UK universities and colleges.

> Post an English teaching job in Gibraltar
> Browse travel guides for Gibraltar


Date Posted
Job Title
Location