| | | | |
| --- | --- | --- | --- |
| | | | |
| Home | About Us | FAQ | Contact Us |
ESL Jobs in Mauritius
Teach English in Mauritius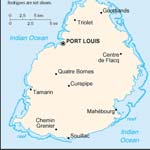 Mauritius is an island nation off the coast of Africa in the southwest Indian Ocean, about 900 kilometers (560 mi) east of Madagascar.
The official languages of Mauritius are English and French. All government administrative documents are drawn up in English. Together with French, it is also a language of instruction in the educational system. French, however, predominates in the media, both broadcast and printed as well as with business and in corporate affairs .
For interested ESL teachers there are a number of volunteer programs that send English teachers to rural villages in Mauritius.

> Post an English teaching job in Mauritius
> Browse travel guides for Mauritius


Date Posted
Job Title
Location