| | | | |
| --- | --- | --- | --- |
| | | | |
| Home | About Us | FAQ | Contact Us |
ESL Jobs in Palau
Teach English in Palau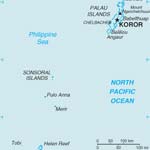 Palau, officially the Republic of Palau, is an island nation in the Pacific Ocean, some 500 miles (800 km) east of the Philippines. Having emerged from United Nations trusteeship (administered by the United States) in 1994, it is one of the world's youngest and smallest nations. It is sometimes referred to in English under its native name Belau.
The official languages of Palau are Palauan and English, except for three states (Sonsorol, Hatohobei and Anguar) where the local language, along with Palauan, is official. In Angaur, Japanese is also an official language.
Native English teachers are not in demand in Palau and you may have trouble finding any jobs there.

> Post an English teaching job in Palau
> Browse travel guides for Palau


Date Posted
Job Title
Location