| | | | |
| --- | --- | --- | --- |
| | | | |
| Home | About Us | FAQ | Contact Us |
ESL Jobs in Tuvalu
Teach English in Tuvalu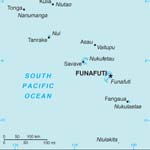 Tuvalu, formerly known as the Ellice Islands, is a Polynesian island nation located in the Pacific Ocean midway between Hawaii and Australia. Its nearest neighbours are Kiribati, Samoa and Fiji. Comprising 4 reef islands and 5 true atolls, with a total land area of just 26 square kilometers (10 sq mi), it is the second-least populated independent country in the world, Vatican City being the smallest. It is the smallest member by population of the United Nations.
The Tuvaluan language is spoken by virtually everyone, while Gilbertese is spoken by some people on Nui. English is also an official language, but is not spoken in daily use.
Positions for EFL teachers are severly limited to non-existant in Tuvalu.

> Post an English teaching job in Tuvalu
> Browse travel guides for Tuvalu


Date Posted
Job Title
Location