| | | | |
| --- | --- | --- | --- |
| | | | |
| Home | About Us | FAQ | Contact Us |
ESL Jobs in Cameroon
Teach English in Cameroon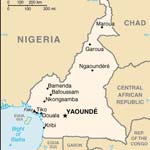 Cameroon can be a good stop for any ESL/TEFL English teachers looking to teach English in Africa. Cameroon is known for it's mix of climates, language dialects, plant and animal life and has a wide range of options open for the interested TEFL teacher. Positions are available with volunteer organisations (i.e. the peace corps) as well as the schools and private language centres located around the country.
Problems that may be encounter teaching English in Cameroon include, poorly equipped classrooms with limited teaching materials for the English teachers to use. Also the lack of local instructors andassistants who speak English at a sufficient level, severely overcrowded classes, and the lack of interest in learning the English language by some students.
Education in Cameroon: Most children have access to free, state-run schools or subsidised, private and religious facilities. The educational system is a mixture of British and French precedents with most instruction in English or French. Cameroon has one of the highest school attendance rates in Africa. Girls attend school less regularly than boys do because of cultural attitudes, domestic duties, early marriage and pregnancy, and sexual harassment. Although attendance rates are higher in the south, a disproportionate number of teachers are stationed there, leaving northern schools chronically understaffed.
Most Cameroonians learn their tribal language in their home environment and also maybe surrounding tribes dialects/languages that they come into contact with for business or other daily contacts. Also with a large islamic population many of the people will have some knowledge of Arabic through their islamic education. Even though English is stated as one of the national languages of Cameroon, it is only spoken in 8 of Cameroon's provinces compared to the 8 that speak French. Once at public school, the curriculum is taught in French with English just being just one required subject.

> Post an English teaching job in Cameroon
> Browse travel guides for Cameroon


Date Posted
Job Title
Location