| | | | |
| --- | --- | --- | --- |
| | | | |
| Home | About Us | FAQ | Contact Us |
ESL Jobs in Finland
Teach English in Finland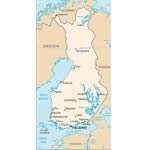 The Republic of Finland is one of the Nordic countries. Situated in Northern Europe, it shares land borders on the Scandinavian Peninsula with Sweden to the west, Russia to the east, and Norway to the north while Estonia lies to its south. Finland is bounded by the Baltic Sea, with the Gulf of Finland to the south and the Gulf of Bothnia to the west.
The Finnish-American society has a string of schools throughout Finland which usually hire North American teachers. If you are a qualified and certified teacher you should have no problem obtaining a teaching position in Finland also the wages are high here compared to the southern European countries. The majority of the other teachers teaching in Finland are British.
As Finland is a fairly expensive country, and it can take a while to find an ESL teaching position, it is advised that you arrange a teaching position before arriving in the country.

> Post an English teaching job in Finland
> Browse travel guides for Finland


Date Posted
Job Title
Location
05/19/2015
Anjalankoski,, Mikkeli,, Valkeala Anjalankoski,, Mikkeli,, Valkeala
Finland
11/29/2012
Valkeala,Savonlinna,Ruokolahti,Kite Valkeala,Savonlinna,Ruokolahti,Kite
Finland
09/27/2012
Valkeala,Savonlinna,Ruokolahti,Kite Valkeala,Savonlinna,Ruokolahti,Kite
Finland
06/05/2012
Mikkeli,, Savonlinna,Ruokolahti Mikkeli,, Savonlinna,Ruokolahti
Finland
04/30/2012
Mikkeli,, Anjalankoski Mikkeli,, Anjalankoski
Finland