| | | | |
| --- | --- | --- | --- |
| | | | |
| Home | About Us | FAQ | Contact Us |
ESL Jobs in Syria
Teach English in Syria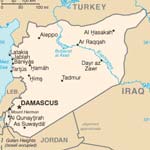 Syria is a country in Southwest Asia, bordering the Mediterranean Sea and Lebanon to the west, Israel to the southwest, Jordan to the south, Iraq to the east, and Turkey to the north.
Arabic is the official and most widely spoken language. Kurdish is widely spoken in the Kurdish regions of Syria. Many educated Syrians also speak English or French, but English is more widely understood. Armenian and Türkmen are spoken among the Armenian and Türkmen minorities. Aramaic, the lingua franca of the region before the advent of Islam and Arabic, is spoken among certain ethnic groups: as Syriac, it is used as the liturgical language of various Syriac denominations; modern Aramaic (particularly, Turoyo language and Assyrian Neo-Aramaic) is spoken in Al-Jazira region. Most remarkably, Western Neo-Aramaic is still spoken in the village of Ma`loula, and two neighbouring villages, 35 miles (56 km) northeast of Damascus.
There are opportunities for Native English teachers in Syria although they are poorly paid in comparision with the nearby gulf countries. The British Council locates teachers to their centres in Syria, and there are also few private language schools in Syria, especially in it's capital Damascus.

> Post an English teaching job in Syria
> Browse travel guides for Syria


Date Posted
Job Title
Location