| | | | |
| --- | --- | --- | --- |
| | | | |
| Home | About Us | FAQ | Contact Us |
ESL Jobs in Yemen
Teach English in Yemen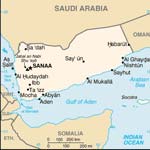 Yemen is a Middle Eastern country located on the Arabian Peninsula in Southwest Asia. With a population of about of about 20 million people, Yemen is bordered by Saudi Arabia to the North, the Red Sea to the West, the Arabian Sea and Gulf of Aden to the South, and Oman to the east.
There are opportunities for Native English teachers in Yemen although they are poorly paid in comparision with the nearby gulf countries. There are 4 main institutes most with their main operations based in Yemen's Capital Sana'a. SIAL, CALES, Yemen Language Centre and the British Yemeni Arabic Institute.
Yemen can be a very rewarding location for ESL teachers looking for a change. Teachers should not worry so much about the terrorist harbouring image portayed in Western media, and should take care to understand and respect the islamic traditions and laws, and if that can be done Yemen offers and exciting backdrop to teach English.

> Post an English teaching job in Yemen
> Browse travel guides for Yemen