| | | | |
| --- | --- | --- | --- |
| | | | |
| Home | About Us | FAQ | Contact Us |
ESL Jobs in Italy
Teach English in Italy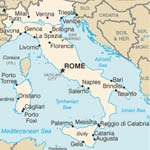 While Italy is still a long way behind it's EU coutnerparts when it comes to English profiency, the importance of English is certainly starting to become apparent, and many parents understand the importance in their children learning English well.
Teaching in Europe, as with the rest of EU, is a lot easier for any teachers holding an EU passport, but Americans still have a chance of landing a job by landing in the country first. Most English schools are looking for teachers with some form of English teaching qualifications (CELTA preferably, but TEFL is also accepted) and teaching experience is looked favourably on.
Most of the English teaching positions in Italy are located in the major cities were they have more interactions with English and English speaking foreigners, these cities include Milan and Rome, but there are also jobs to be found in the other towns/cities in the North and South. The best time of the year to look for English teaching jobs in Italy is in February and March.
Teaching conditions are far from perfect in Italy - definetely not compared with the structure of education and English teaching in countries such as Germany and Scandanavian countries. The teaching week is around 25 hours a week, with the average salary for one month's work is around 1,000 EUR. Of course the pay in Italy greatly depends where you are teaching with wages in the major cities much more than you would expect from the poorer areas in the South. Living expenses in Italy can be estimated at around 550-800 EUR per month.

> Post an English teaching job in Italy
> Browse travel guides for Italy