| | | | |
| --- | --- | --- | --- |
| | | | |
| Home | About Us | FAQ | Contact Us |
ESL Jobs in Brazil
Teach English in Brazil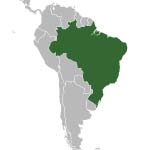 Brazil is a lively, exotic and exciting place to base yourself and teach English. Many of the stereotypes prove true, with Brazil a country of beautiful beaches, small swimsuits, football fanatics, and carnivale. However it is also a land of extremes with the rich living a very good life and the other half of the population living in slums, with soaring crime rates and poverty.
Learning English in Brazil is becoming more necessary as many multinational companies operate out of the major cities, private English schools are popular in not only the major cities but also smaller towns, and English study is popular with the younger Brazilians and is studied at schools and universities. This means there are plenty of opportunities for the interested English teachers. On top of this there are numerous positions in Brazil offered by volunteer organisations, that normally teach in more remote locations or in poorer regions.
Renumeration for English teaching in Brazil is poor and English teachers should not expect to be able to make a good earning compared to as they would back at home with Western standards. In rural areas salaries are poor or even only available as volunteers in some areas, in cities the money is more but you then also need to factor in the higher living expenses you will encounter in the larger Brazilian cities. Money can be supplemented by working as a private tutor, which can provide a good second income especially in cities such as Sao Paolo and Rio De Janiero, where demand is high if you look in the right places.
Finding a position in Brazil can be done before your arrival if you plan. Online resources rarely have jobs listed by Brazilian schools, however these can be found if searched for hard enough. Your best best would be to decide on the region of Brazil you want to teach in. From here get a list of schools in the area and apply to them via this method. Other methods can be to use local newspapers, although some knowledge of Portuguese the official language of Brazil would be useful.

> Post an English teaching job in Brazil
> Browse travel guides for Brazil