| | | | |
| --- | --- | --- | --- |
| | | | |
| Home | About Us | FAQ | Contact Us |
ESL Jobs in Cambodia
Teach English in Cambodia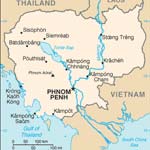 Cambodia is an amazing country and has much to give to English teachers who want to teach there. Despite what the people have gone through you will find that the people are the warmest and friendliest people you have met. There is much to see while in Cambodia, including the acient ruins of Angkor, the capital Phnom Penh, Ton Le Sap, or the small rural villages.
The country first opened it's doors after the long civil war, when numerous aid agencies and NGO's flocked to the country to help it recover from the poverty and genocide of the 70's and 80's. With the aid workers came a whole industry to cater to their needs and to make some substantial foreign currencies, with the importance of English was understood and also can the opening of a large number of international schools to cater for the high ex-pat NGO population.
From there the TEFL industry in Cambodia was born. Since the late 90's to this date has seen a huge influx of tourist flocking to see the 'hidden treasures' in Cambodia, English has never been more important in this country to make a 'good living'. As far as English teaching opportunities go there are a number of private language schools (mostly in the capital and Siem Reap) along with foreign owned international schools, volunteer positions are available in rural schools and government schools.

However teaching positions are still considered difficult with most schools very poorly equipped, and because of the high poverty problems such as students being unable to attend regularly, and overcrowded classrooms. English teachers may also find themselves fill in roles in other subjects during their teaching.
Wages teaching English in Cambodia have a wide range. At the bottom end, low budget language schools hiring no-qualifications/experience native English speakers pay around $5 an hour, while other more established language centres who are normally looking for a TEFL or degree qualified teacher pay in the realm of $7-12 USD. The foreign institutes have the same requirements as most universities in most countries and require for at least an MA and a long history of teaching at a top level. Living expenses in Cambodia can be very very high. If one wished to have all the comforts of home in Phnom Penh, you will definetely pay for it, on the other hand if you can live like the locals live and stay away from the ex-pat haunts then the ESL teachers wage is very high in Cambodia compared to the average local wage.

> Post an English teaching job in Cambodia
> Browse travel guides for Cambodia