| | | | |
| --- | --- | --- | --- |
| | | | |
| Home | About Us | FAQ | Contact Us |
ESL Jobs in Laos
Teach English in Laos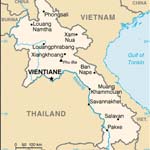 Laos, officially the Lao People's Democratic Republic, is a landlocked socialist republic in southeast Asia, bordered by Myanmar (Burma) and the People's Republic of China to the northwest, Vietnam to the east, Cambodia to the south, and Thailand to the west. Laos traces its history to the Kingdom of Lan Xang or Land of a Million Elephants, which existed from the fourteenth to the eighteenth century. After a period as a French colony, it gained independence in 1949. A long civil war ended when the communist Pathet Lao came to power in 1975. Private enterprise has increased since the mid-1980s, but development has been hampered by poor communications in the heavily forested and mountainous landscape. Despite this, the economy of Laos grew at 7.2% in 2006, 35th fastest in the world. Eighty percent of the employed practice subsistence agriculture. The country's ethnic make-up is extremely diverse, with only around 70% belonging to the largest ethnic group, the Lao.
Laos is a beautiful country and a fantastic place to teach English for adventurous ESL teachers. Infrastructure is still poor in Laos, roads are long and in poor conditions and the local airlines are best avoided, and while you will be without most of the mod cons from home, you will be able to live like a King/Queen on the money you make when compared to the local average wages.
Most of the teaching positions would be in the tourist hotspots, but because of this may or may not have stronger competition for positions. The best chances of finding work as an English teaching in Laos are in the capital Vientiane, the beautiful world heritage listed city of Luang Prabang, or Savannakhet or Pakse.
Teaching hours are around 25-30 hours per week, with wages being 5.5-17.5 million LAK (around $530-1,650 USD). This is a huge amount of money in Laos, with the largest bank note only 500LAK, means you are carrying money to the bank in plastic bags. Living expenses are very low, but remember you will be living without many of the comforts of home, expect to spend around 1.5-2.3 million LAK every month.

> Post an English teaching job in Laos
> Browse travel guides for Laos