| | | | |
| --- | --- | --- | --- |
| | | | |
| Home | About Us | FAQ | Contact Us |
ESL Jobs in Canada
Teach English in Canada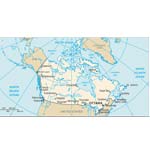 Canada is a multicultural country with a large international student base, from countries such as Hong Kong, China, Korea, etc. Canada's two official languages, English and French, are the mother tongues of 59.7% and 23.2% of the population respectively, and the languages most spoken at home by 68.3% and 22.3% of the population respectively. While multiculturalism is the official policy, to become a citizen one must be able to speak either English or French, and 98.5% of Canadians speak at least one (English only: 67.5%, French only: 13.3%, both: 17.7%).
Teaching in Canada is a great option for EFL english teachers not looking at leaving home by far, or for teachers with trouble adjusting to living in some of the more popular places for EFL teachers in Asia, Europe and S.America. The EFL market is a growing one in Canada, and there are an abundance of language schools that are looking for experienced English teachers. The majority of the private language schools are located in Vancouver, Toronto is also a popular location, but other language centres are also to be found in other parts of the country.
Private schools in Canada are of a very high standard and are self-regulated by associations such as PELSA (Private English Language Schools Association), CAPLS (Canadian Association of Private Language Schools), or Private Post Secondary Education Commission (PPSEC).
Unique to an official English speaking country, Canada provides significant opportunities for English lessons among its 7 million French-speaking 'Quebecois' (inhabitants of the province of Quebec). Large numbers of students come from Europe, Asia and Latin America, year round, and represent one of the main sources of employment for ESL teachers. An alternative to the private language school is the many government-sponsored English programs for immigrants. Canada is also part of the Working HolidayMaker Visa agreement with the UK, Ireland, Australia, New Zealand and a few other European and Asian countries.

> Post an English teaching job in Canada
> Browse travel guides for Canada