| | | | |
| --- | --- | --- | --- |
| | | | |
| Home | About Us | FAQ | Contact Us |
ESL Jobs in Peru
Teach English in Peru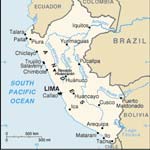 Peru is a country in western South America. It is bordered on the north by Ecuador and Colombia, on the east by Brazil, on the southeast by Bolivia, on the south by Chile, and on the west by the Pacific Ocean.
For the TEFL/ESL teacher looking to teach in Peru, most positions that are available are in capital Lima, where are a handful of language schools regularly looking for Qualified and experienced English teachers. While qualifications and experience is looked upon favourable, schools are willing to look at hiring just Native English speakers.
Jobs can generally be found all year round. For most positions the teachers are not advertised for Internationally, and you would have a much better head-start if you were already in Peru - also it is much more likely you can secure better renumerations and living conditions if the job is found when you are already there. You could try dropping into the centres to discuss a position, or else most other jobs are found by word-of-mouth so ask around.
Many schools have a trial period for new teachers - which comprises of teacher training, this is more than likely unpaid. Once you start proper teaching expect a salary of around 1,500 to 2,500 peso pre month, this equates to $460-770 USD per month. You wil probably not be able to save that much, but renumeration is still much higher when comparing with average local wages, and can be supplemented by private lessons on the side.

> Post an English teaching job in Peru
> Browse travel guides for Peru