| | | | |
| --- | --- | --- | --- |
| | | | |
| Home | About Us | FAQ | Contact Us |
ESL Jobs in Guatemala
Teach English in Guatemala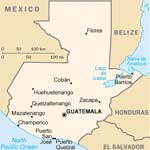 Guatemala, is a country in Central America bordered by Mexico to the northwest, the Pacific Ocean to the southwest, Belize and the Caribbean Sea to the northeast, and Honduras and El Salvador to the southeast.
Although Spanish is the official language, it is not universally spoken among the indigenous population, nor is it often spoken as a second language. Twenty-one distinct Mayan languages are spoken, especially in rural areas, as well as several non-Mayan Amerindian languages, such as the indigenous Xinca, and Garifuna, an Arawakan language spoken on the Caribbean coast. Twenty-three languages are recognized as National Languages according to DECRETO NΪMERO 19-2003.
The government runs a number of public elementary and secondary-level schools. These schools are free, though the cost of uniforms, books, supplies, and transportation makes them less accessible to the poorer segments of society. Many middle and upper-class children go to private schools. The country also has one public university (Universidad de San Carlos de Guatemala), and 9 private ones (see List of universities in Guatemala). Only 69.1% of the population aged 15 and over are literate, the lowest literacy rate in Central America
Any opportunities for TESOL/TEFL English teachers are in the Capital Guatemala, most of the jobs in the country are focused on the poorer regions and are cater for by the many volunteer outfits in working in Guatemala.

> Post an English teaching job in Guatemala
> Browse travel guides for Guatemala